Literary dark fiction from Rebecca Lloyd – short story writer and occasional novelist. Find out more about my writing and my latest books here, or visit my blog for very infrequent reviews, interviews and thoughts on books and writing in general. 
Recent Books by Rebecca Lloyd
SEVEN STRANGE STORIES, TARTARUS PRESS, 2017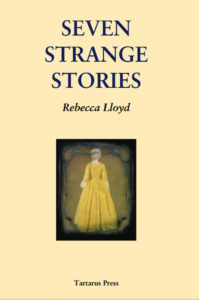 In this new collection of Seven Strange Stories, Rebecca Lloyd explores the power of superstition in The Monster Orgorp, set in the 18th century, and similarly, in Little Black Eyes and Tiny Hands, she examines the repercussions on generations of superstitious Sicilians of the arrival in their village of an infamous Englishman intent on establishing a religious cult. Two of the stories, Christy and The Pantun Burden deal with the idea that it hardly matters if ghosts are real or not, given our power to imagine them. The three remaining stories are as strange and original as the aforementioned and crafted with the same precision and clarity. Again, set in 1930 in conservative England, examines the psychological effects on a man who murders a woman already thought to be dead, and how it isolates him from his own community, and in Where's the Harm, two brothers are in conflict over the all-female inhabitants of a house hidden in a wood. In Jack Werrett, the Flood Man, a woman stays in a house in the wilds of Norfolk, against her better judgement and comes to understand personally the terror of her two landladies.
OOTHANGBART, PILLAR INTERNATIONAL PUBLISHING, 2016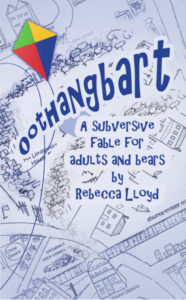 Excerpt from Oothangbart: Donal paused. 'In Bristol nobody would ask me questions for the sake of making themselves feel better about this matter or that. A fellow could have all sorts of odd ideas and feelings and nobody thought anything of it. A fellow could be himself and yet not feel different or lonely. In fact, all fellows in Bristol regarded themselves as the equal of all other fellows. Oh, and I should tell you that there is no escalator in the High Street.'
'Are their kites big?' Everard shouted.
Donal smiled. 'Their kites are just like ours. Some big and strong, and some small and elegant.'
'What about their flags?' The Mayor asked.
Donal hesitated. 'In Bristol there are no flags because to show pride openly would be vulgar. They might have had flags a long time ago, but they cut them all up and made kites out of them,' he answered.
~~~~
'Quite impossible to compare this book to anything else.'
'And this book gets better and better, if that were possible.'
'I had dozing, waking and sleeping dreams about this book last night.'
'This is the most poignant, yearning, yielding, unrequited work of fiction I have ever read….'
'Rest assured, this is quietly transcendent literature and I genuinely… believe this is a major new-archetypal… work that needs urgent attention by those not yet in the know about it.'
'I have been enraptured in the last week or two by this book.'
Des Lewis, reviewer. https://dflewisreviews.wordpress.com/2017/01/06/oothangbart-rebecca-lloyd/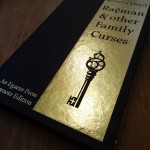 RAGMAN & OTHER FAMILY CURSES – Egaeus Press, 2016
Ragman & Other Family Curses presents four previously unpublished long short stories by World Fantasy Award nominated* Rebecca Lloyd, linked by the themes of family, secrecy and domination. Often unsettling, sometimes darkly humorous, always utterly unexpected, hear are tales of tyrannical parents, frightening heirlooms, spectral omens and macabre night vigils.
*For Mercy and Other Stories, Tartarus Press, 2014.
Features four specially commissioned illustrations by Marc Beattie.
The book is lithographically printed, 192 page pocket sized sewn hardback (105mm x 165mm); limited to 275 copies. It is the first of the Egaeus Press Keynote Editions. ISBN 978-0-993527807
http://www.egaeuspress.com/News_-_Egaeus_Press.html